An Autonomous Van With An All-Electric Powertrain And Delivery Drones On-Board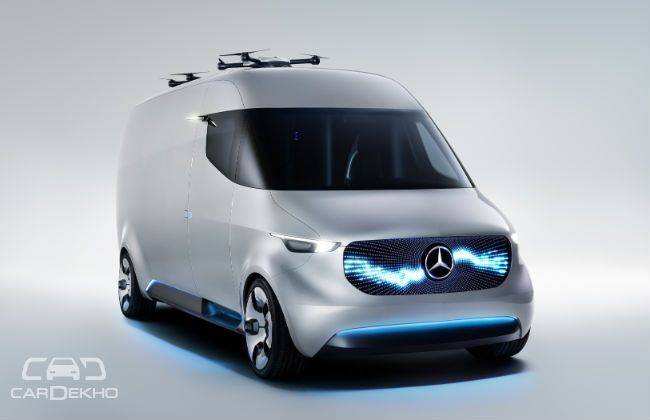 A van is type of vehicle that has always been low on excitement levels but high on practicality. But what happens when you equip one with all the futuristic stuff to make it look like this one here? Well, that's a whole new ballgame for everyone. Say hello to the future of transportation of things - the Mercedes-Benz Vision Van. It is what the German automaker foresees as a possible way forward towards an efficient and autonomous delivery vehicle.
Showcased at the ongoing 2017 Consumer Electronics Show (CES), the Vision Van was presented to the public for the first time in September last year. The concept is a byproduct of the initiative called adVANce - an in-house strategic future initiative taken by Mercedes-Benz. That's enough of prep talk! Let's see what this concept can do. Powering the gorgeous van (can't believe I defined one that way!) is a 75-kW electric drive (approximately 102PS), which is efficient enough to give a maximum range of 270km. Thanks to an all-electric powerplant, the Vision Van is virtually silent and completely emission-free.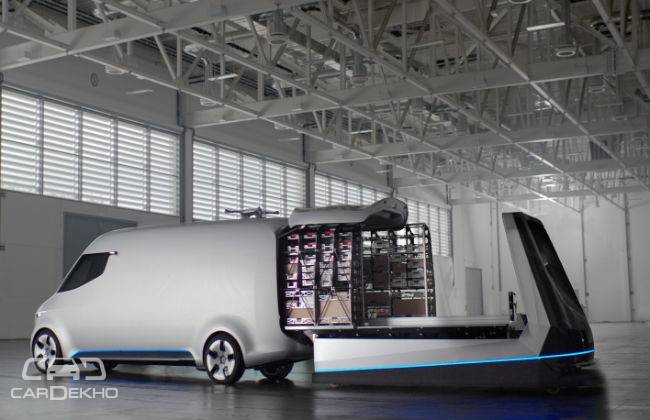 Mercedes-Benz has conceptualized the van to be the perfect example for efficiency, quality and flexibility for last-mile deliveries. It features a fully automated load compartment, integrated drones for autonomous air deliveries and a state-of-the-art joystick control. Apart from this, the Vision Van carries a whole new approach for communicating with the driver and other motorists. For instance, it will signal the driver if there is a cyclist or a pedestrian that is hidden from his vision. On the outside, the Van's front and rear has LED matrix and LED displays to communicate with others. It will display messages such as turning, stopping and that the Van is parked for a longer duration and thus can be overtaken.
While all this is great, Mercedes-Benz is just getting started. The company has joined hands with start-ups like Starship Technologies to take the Vision Van concept to a whole new level. In future, the Vision Van will be transformed to a mobile goods depot and a distribution centre for automated last-mile deliveries. Mercedes-Benz says that the long-term vision of the concept, which goes by the name "Mothership", is an autonomous robot fleet which coordinates and optimizes its routes autonomously with vans from the company.
CarDekho