Ford Investing Rs 1,300 Crore In Chennai-Based Technology And Business Centre
The Chennai Facility Will Become Ford's 2nd Largest Centre Of Employment Globally, After Its Headquarters In Dearborn, Michigan
Ford Motor Company has announced plans to develop a new global technology and business centre in Chennai that will serve as a hub for product development, mobility solutions and business services for India and other markets around the world. The move solidifies Ford's position in India as not only a manufacturer, but as a developer as well. 
Here's a look at the highlights:
The American automaker is investing $195 million (Rs 1,300 crore) and 3,000 employees will be hired over the next 5 years to fully staff the new centre.
Ford will also consolidate 9,000 employees from 6 existing facilities in Chennai on the 28-acre campus. 
With 12,000 employees in total, the Chennai facility will become Ford's 2nd largest centre of employment globally, after Dearborn, Mich., USA. 
Expected to be completed by early 2019, the global technology and business centre in Chennai will become Ford's 3rd global product development centre in the Asia Pacific region.
Apart from employing engineers, the workforce will also include employees from the IT, finance, accounting, data analytics and manufacturing divisions.
The centre will include a wide range of laboratories and testing facilities for both vehicles and components.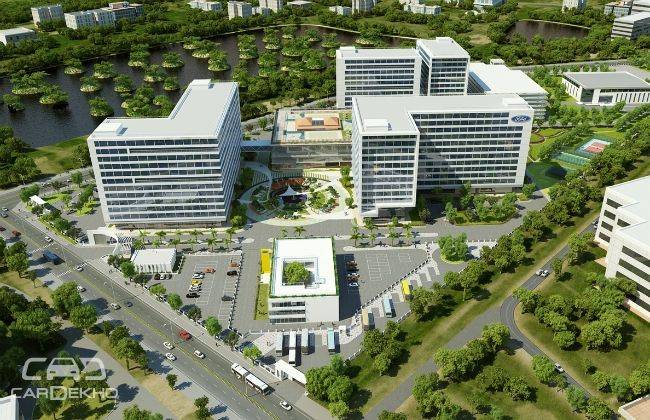 Apart from helping Ford create new technologies, the centre will also play a vital role in the development of products and strategies aimed at emerging markets like India.
"India is not only a vibrant market for cars and new mobility ideas, it also is rich with talent, technical expertise and ingenuity," said Bill Ford, Ford Motor Company's executive chairman. "This new centre will help us attract the best and brightest, and make Chennai a true hub of innovation for Ford around the world."
CarDekho
Ford Investing Rs 1,300 Crore In Chennai-Based Technology And Business Centre
Comments
comments